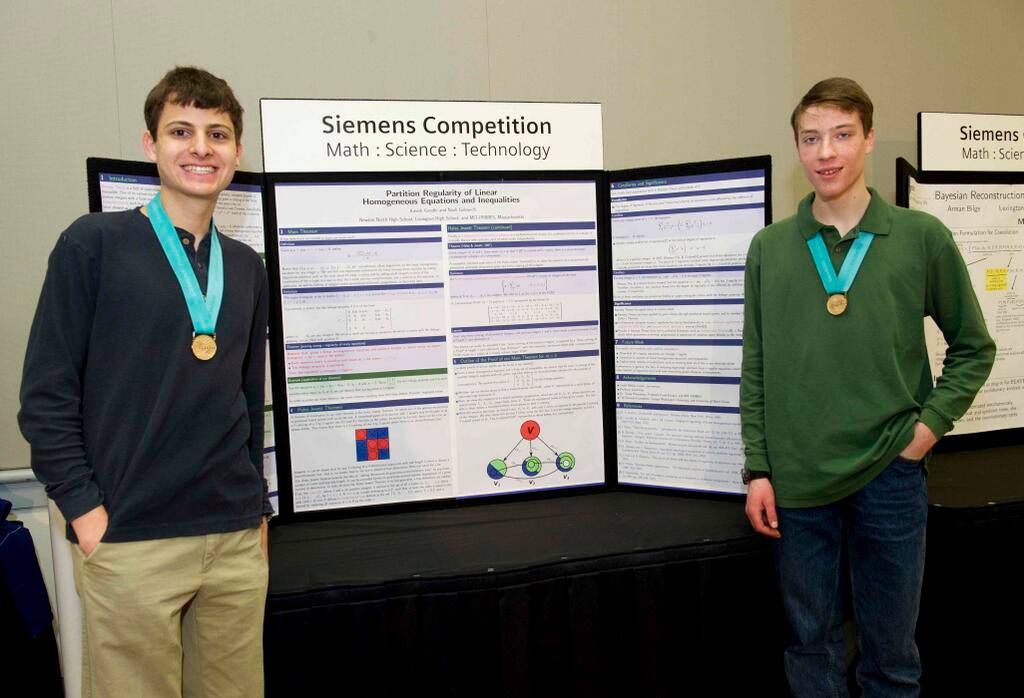 Congratulations to Newton North HS junior Kavish Gandhi and his Lexington teammate, Noah Golowich, who have won a $50,000 scholarship by achieving second place nationwide in the prestigious Siemens Competition in Math, Science & Technology. Last month, the team won the Siemens Region Three Finals and the right to compete in this week's national finals in Washington, DC.  You can see a video of their 12-minute presentation, Partition Regularity of Linear Homogeneous Equations and Inequalities.
Their research is in the area of Ramsey Theory, which Gandhi described in the NNHS Newtonite as "'focused on finding patterns and order in sufficiently large systems' with applications in theoretical computer science, communications networks, cellular networks, positional board games, and molecular structures."  They conducted their research through the MIT Program for Research in Mathematics, Engineering, and Science, mentored by mathematics Ph.D. candidate Laszlo Miklos Lovasz.
Kavish says that he became interested in mathematics at a young age, simply from spending time outdoors and taking note of naturally occurring patterns. He has participated in numerous mathematics competitions.
"My favorite subject is mathematics because of its inherent beauty.  Plus, the feeling that I get after I struggle and then finally, the jigsaw pieces snap together, and I solve a math problem, is unmatched in any other subject… Math is the best!" — Kavish Gandhi