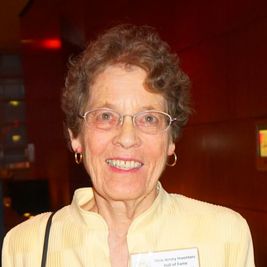 Dr.  Gertrude  M.  Clarke, an  inspiring  classroom teacher and brilliant scientist, passed away on May 15 at the age of 88. I've been writing the NewtonSTEM blog for over nine years now, driven by an interest in STEM ignited 50+ years ago in Dr. Clarke's physics class in Chatham, NJ. Besides being my favorite teacher, she:
Studied atomic, nuclear, and solid waste physics at Yale;
Earned her Ph.D. from Rutgers University;
Conducted research at Brookhaven National Laboratory, with the Rutgers University accelerator, with Harvard University's cyclotron, and at Stevens Institute of Technology's laser laboratory;
Taught physics, science survey, practical chemistry, and environmental science at Chatham High School and created a high-school AP course in nucleonics;
Received honors from Princeton University and the National Science Teachers Associations for her excellence in high-school teaching;
Improved the precision of medical proton beams in numerous cancer treatments through her research;
Founded the New Jersey Business/Industry/Science Education Consortium and served as its Executive Director;
Was a trustee, the first woman president, and later an inductee of the New Jersey Inventors Hall of Fame.
Dr. Clarke was super smart, energetic, understanding, and super dedicated to her students, with a great sense of humor. Her classes were fun, challenging, and enlightening. I remember her saying one day, as we worked on experiments, "This is a laboratory — with the emphasis on labor, not oratory!" I'm sure that Dr. Clarke inspired several hundred students to pursue careers in science, engineering, and STEM education.