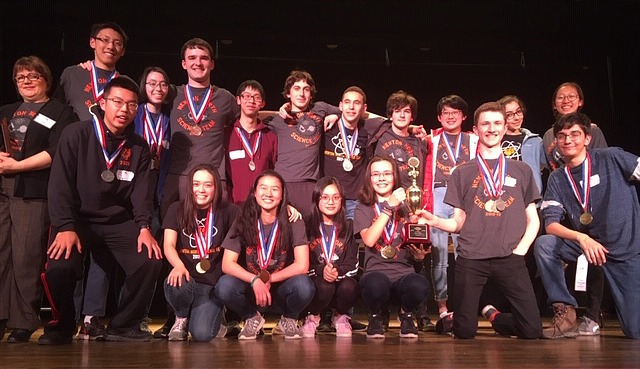 Congratulations to the Science Teams of Newton North HS (in photo) and Newton South HS for placing 2nd and 4th respectively among 55 high school teams in the preliminary results of this year's Massachusetts Science Olympiad held at Framingham State University. These are preliminary results, to be finalized in the next two weeks. Each team assigns one or two students to compete in each of 25 events throughout the all-day competition. Newton North won first place in five events and second place in four:
Gus Betts-O'Rourke, Alina Zheng, Skyler Bohnert – first, Codebusters
Laura Schmidt-Hong and Julian Liao – first, Designer Genes
Laura Schmidt-Hong and Emily Davis-Morin – first, Disease Detectives
Ethan Gahm and David Genis – first, Dynamic Planet
Laura Schmidt-Hong and Alina Zheng – first, Herpetology
Eve Martin and Abby Lau – second, Astronomy
Eve Martin, Jonathan Liu, and Jessica Chen – second, Experimental Design
Ethan Gahm and Emily Davis-Morin – second, Mission Possible
Jessica Chen, Emily Pan, and Max Tu – second, Protein Modeling
Acton-Boxborough placed first, as it has since 2009, when Newton North last came out on top.