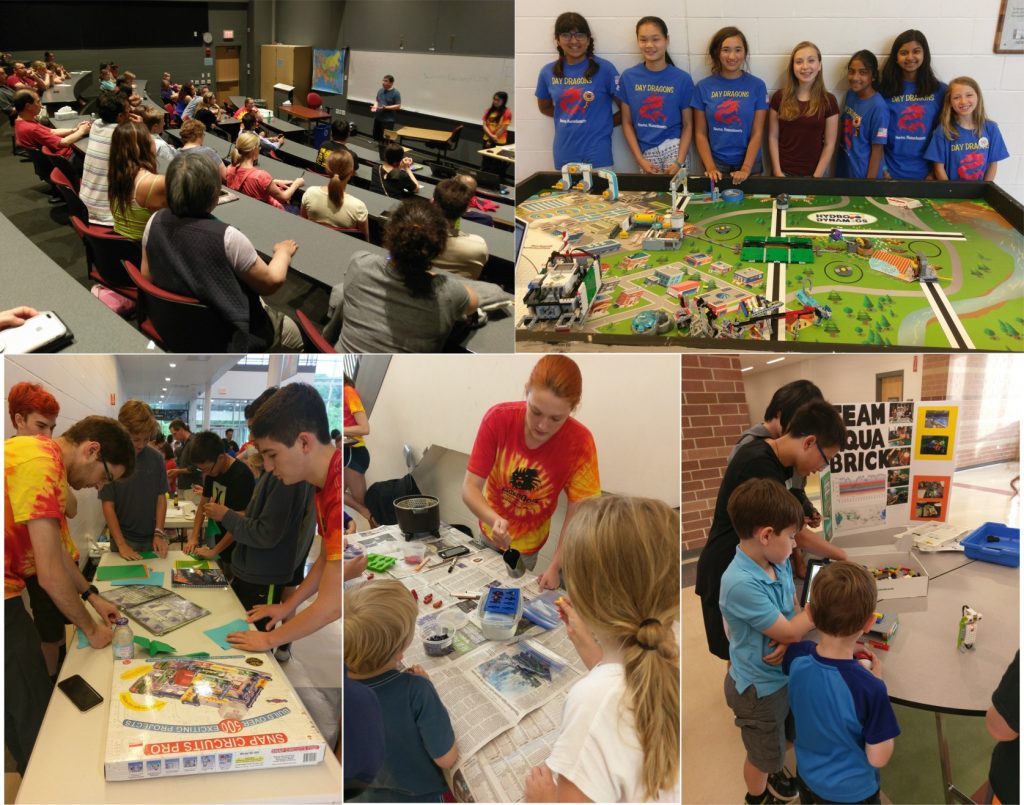 While the high-school FIRST Robotics Competition action in Newton is focused on the highly visible LigerBots, parents and kids may find it a bit difficult to get going in the younger levels, FIRST LEGO League (FLL) for Grades 4-8 and FIRST LEGO League Jr. for Grades K-3. There are about 15 FLL teams and at least a few FLL Jr. teams in Newton. Parents may want to find a team for their kids to join, but it's sometimes not easy to add kids to existing teams. The best way to get your kids involved is to start a team, and there's lots of help available — online as well as from others in Newton — to get you going.
The LigerBots provide support for developing FLL and FLL Jr. teams.  Last week, the LigerBots held an information session for interested parents (see photos), and each fall the team runs two FLL tournaments — a regional qualifier and the Eastern Massachusetts Championship — at Newton North HS, where parents and kids can see what it's all about. The team also maintains a webpage of FLL information useful for parents and coaches.  If you missed last week's information session, you can see the presentation here. You can also fill out the LigerBots' FLL Survey to get on their mailing list and ask to be connected with nearby parents and kids interested in forming FLL or FLL Jr. teams. The LigerBots will follow up with respondents soon. You can also email fll@ligerbots.org with questions or requests for help.
In addition, Empow Studios is hosting FLL teams that will meet on Sundays in Newton and Lexington. Their online application has more information.
FLL Jr for Grades K-3 has challenges based on the same theme as the Grade 4-8 FLL teams, but with more age-appropriate materials. The theme for 2018/2019 is "Mission Moon."  Teams are given a general problem to solve, and each team decides how they want to solve it and then creates a Lego model to illustrate their solution, creates a poster to go into more depth, and prepares a talk to explain their work.  Teams are 2-6 students and 2 or more coaches.