The Newton LigerBots had their best performance yet at the FIRST Robotics Competition (FRC) World Championship in Detroit this weekend, finishing 6th out of 68 teams in the Daly division and advancing to the Division Semifinals before falling to the team that won the World Championship. This is the fourth time that the LigerBots have won a spot in the World Championships in its ten years. and each time they have advanced further.
Thirty-three LigerBots students, accompanied by coaches, mentors and parents, made the trip to Detroit to compete with over 400 FRC teams from around the world. The FIRST World Festival also included 128 teams competing in the FIRST Tech Challenge and over 100 FIRST Lego League teams — including the Newton's Day Dragons, a team of four students from Day Middle School and and two from Pierce.
The LigerBots lost only one of 10 matches in qualifying rounds, achieving third best among 37 New England teams that qualified for the championships. They advanced through quarterfinals and semifinals, but did not move on to the finals. 
Excellence depends on many factors: a robust design, a skilled and level-headed "drive team," the ability to partner with other teams, and scouting other matches to identify robots with complementary abilities with which to form alliances.
The event included exhibits from colleges across the country, an innovation fair, and exhibits from companies seeking to engage with students interested in STEM.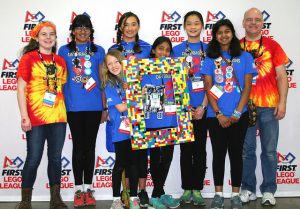 Newton's Day Dragons FLL team presented a seminar on "Applying Agile Principles to Your FIRST Lego League Team," which was well-received, and the students impressed the audience as they took part in a panel discussion following the presentation.
The LigerBots spoke to teams around the world about: how they inspire and engage their community in learning about STEM, their use of 3D printing, and their 3D printed part competition, which they created 3 years ago to celebrate the creative ways teams solve problems with 3D printing.
The LigerBots were excited to be a part of this event,and appreciate the community and corporate support that allowed the team to include as many students as were able to go. Their next competition will be BattleCry, on May 19 at Worcester Polytechnic Institute.