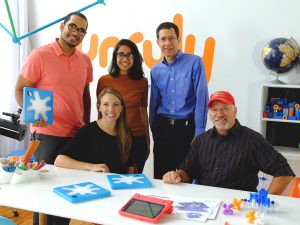 Check out Kickstarter starting at 4PM on October 2, as Boston-based start-up Unruly Studios launches its first STEM education product, Unruly Splats. Unruly Splats teaches kids basic concepts of programming and other STEM skills in a fun and compelling way as they get up, move around, and create real, interactive games from their own imagination.
You may have met CEO Bryanne Leeming demonstrating Unruly Splats at either of the last two Newton Free Library STEAM Expos or in the Mini Maker Faire at the LigerBots' FIRST LEGO League Competition last year. David Kunitz, Unruly's Head of Design, is a Newton North HS graduate, and the company's Tech Lead, Daniel Ozick, is a Newton resident.
Your backing of this local start-up will be most helpful and appreciated in the first two days after the early-access Kickstarter link goes live at 4PM on Monday, the day before the formal launch of the company's 30-day Kickstarter campaign. After this campaign, sales will be via Unruly-Studios.com, for delivery by next summer.